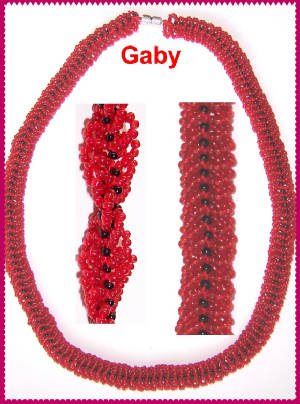 Ketten in Schlaufentechnik Ich habe (im Fall der gezeigten gold/schwarzen Kette) eine schwarze Rocaille und neun goldfarbene Rocailles gefädelt..immer im Wechsel Enden muss die "Fädelei" immer mit den 9 Rocailles. Dann werden zuerst 3 Luftmaschen gehäkelt, danach wird in die mittlere LM eingestochen und der Faden hinter der ersten schwarzen Perle geholt,durch beide Fäden durchgezoegn und dann wird eine LM gehäkelt. Dann wieder in die gleiche mittlere LM einstechen, Perlen holen,hinter der schwarzen beide Fäden durchziehen, 2 LM. Jetzt hat man 2 Schlaufen und dreht die Arbeit so, dass die schwarze Perle der 1. Schlaufe zu einem hinzeigt. Dann in diese Schlaufe einstechen und zwar zwischen die schwarze und der 1. goldenen Perle, Perlen ranschieben und Faden hinter der schwarzen Perle holen, wieder durch beide Fäden durchziehen und eine LM häkeln...Arbeit wieder im Uhrzeigersinn drehen und in die nächste Schlaufe (wieder zwischen der schwarzen und der 1. goldenen Perle)häkeln. Ganz wichtig ist,dass man darauf achtet, dass beim Durchziehen der Faden auch wirklich zwischen der schwarzen und der 1.goldenen Perlen bleibt. Mir gefällt besonders gut, dass man die Ketten glatt oder gedreht tragen kann.

Loop Technique:
I threaded (in the case of the gold/black chain) a black Rocaille and nine gold Rocailles.
Each round(?) must always with the 9 Rocailles.
Then first 3 air meshes are gehäkelt, afterwards into the middle LM and the thread behind the first black bead, by both threads is in-stung durchgezoegn and then is gehäkelt a LM.
Then again into the same middle LM in-sting, beads get, behind which black both threads pull through, 2 LM.
Now one has 2 loops and turns the work in such a way that the black bead of the 1. Loop to one shows.
Then into this loop in-sting between the black and the 1. golden bead, beads ranschieben and thread through behind the black bead get, again by both threads pull and a LM häkeln… work again in the clockwise direction turn and into the next loop (again between the black and the 1. golden bead) häkeln.
It is completely important that one makes certain that when pulling through the thread remains also real between the black and the 1.goldenen beads.
It pleases me particularly well that one can carry the chains smoothly or turned.